Butte County Events for April 27th and 28th
Summertime & Wintertime Theater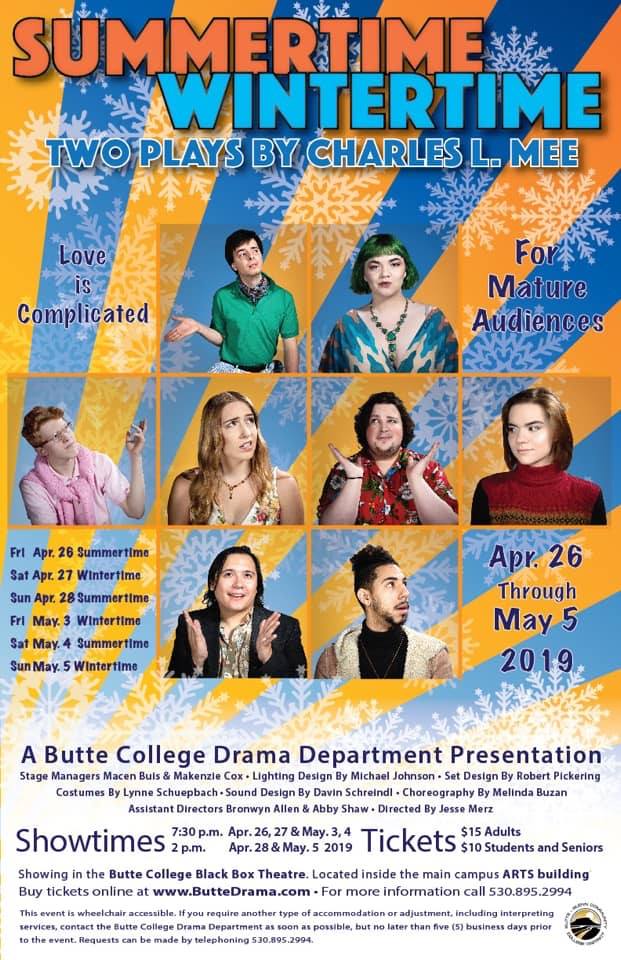 When: Friday April 26th 7:30pm
Where: Butte College Theater
It's a recipe for disaster – a wife, her lover, her husband, her husband's lover, her children, an artist, her ex-lover, a cook, the lesbians from next door, their son, two endearing young lovers, and a pizza delivery boy. Mix them all up, throw them in a house together in the idyllic Martha's Vineyard, and you've got two plays rife with love, laughter, and operatic highs and lows which define the work of Charles Mee.
Come and join Butte College students, faculty and community members as they breathe life into these two whimsical shows, sharing messages of truth and asking the ultimate question – "Can true love withstand the chaos and pitfalls of our modern society?"
"Summertime" and "Wintertime" will be shown in rotating repertory, with each show alternating. "Summertime" opens Tickets are $15 for adults and $10 for seniors/students. Summertime" and "Wintertime" are recommended for mature audiences (recommended 16+) due to adult language and adult themes. Purchase tickets
here.
North Sierra Wine Trail Weekend
When:April 27 adn 28th from Noon-5pm
Where: Purple Line Urban Winery 760 Safford Oroville, Ca.
Enjoy fine wines, olive oil, delicious appetizers, music, art and more on the weekend of April 27th and 28th, from noon to 5 pm each day, as you explore the North Sierra Wine Trail. One ticket ($25 in advance from
northsierrawinetrail.com
and participating wineries) provides admission and tasting at all 13 Artisan Wineries on the North Sierra Wine Trail.
Appellation, the North Sierra Wine Trail offers a variety of microclimates with unique terroirs, and is one of the most exciting emerging Wine Regions in California.
Foothills favorites like Zinfandel, Primitivo, Syrah, Barbera, Pinot Grigio, and Sangiovese will be poured alongside more traditional varietals like Cabernet Sauvignon, Merlot, and Chardonnay. Plus there will be exciting Sierra Foothills up-and-comers Malbec, Mourvedre, Cab Franc, Petite Verdot, and Tempranillo. There is even Pinot Noir from the higher elevations and many incredible Blends at all locations. Chances are your glass will be filled by winemakers and owners.
Boots with Flowers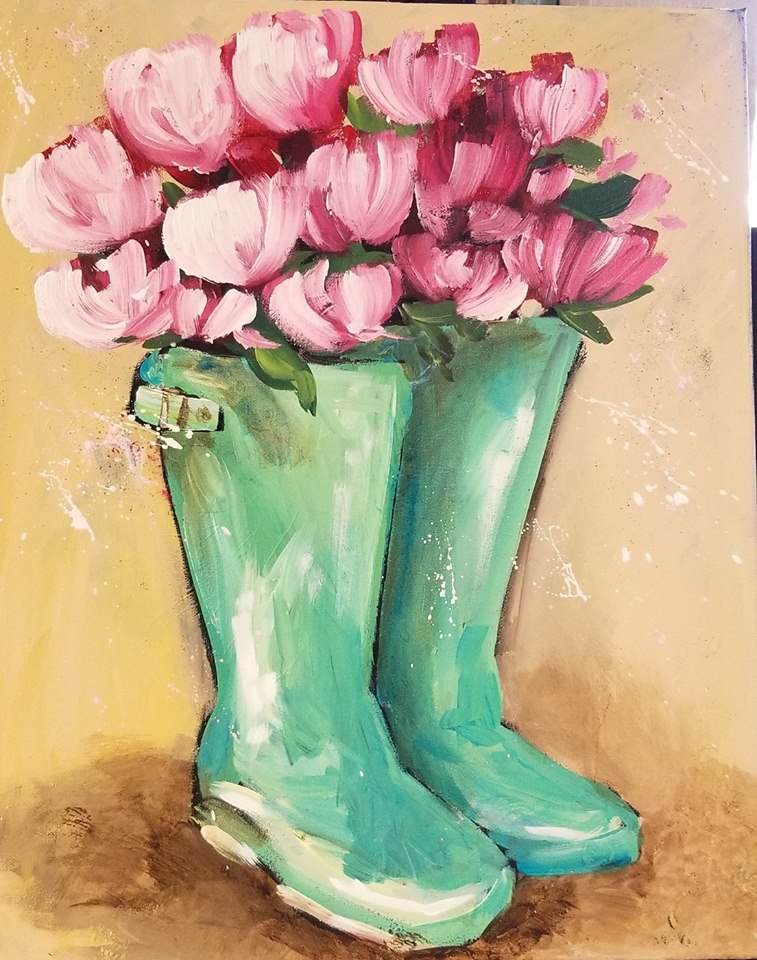 When: Saturday April 27th 6pm-8pm
Where: MacShane Studio 561 E. Lindo Ave, Chico
Bring your friends and family to the studio and learn from the multi talented Christine Mac Shane how to paint step by step this adorable pair of boots and flowers. Bring home your masterpiece and wow your friends! Buy tickets here!