Authentic Pasta Carbonara
Looking for a quick and easy, but filling meal? Try this Carbonara. With a hint of lemon and fresh spring peas, this is the perfect spring dinner.
Ingredients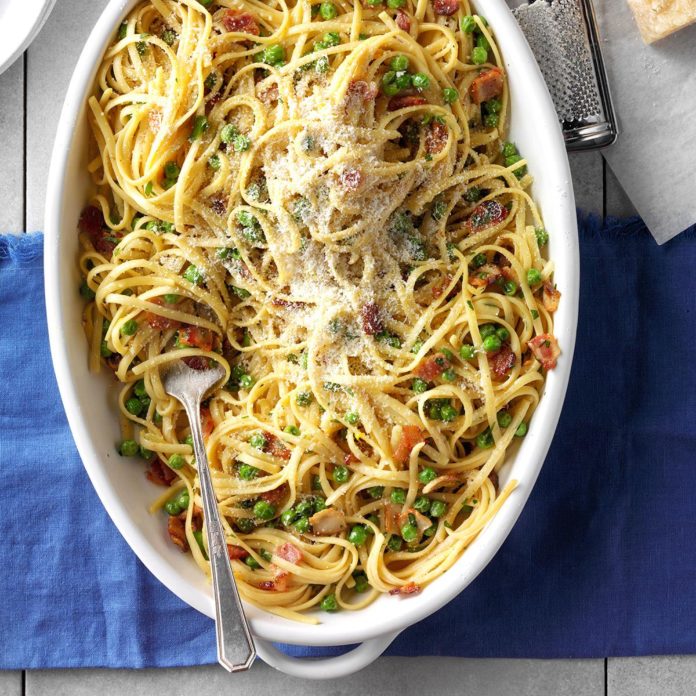 1 package (1 pound) spaghetti or linguine
6 bacon strips, chopped
1 cup fresh or frozen peas
2 tablespoons lemon juice
1-1/2 teaspoons grated lemon zest
2 large eggs, lightly beaten
2 tablespoons minced fresh parsley
1/2 cup grated Parmigiano-Reggiano cheese
1/4 teaspoon salt
1/4 teaspoon pepper
Additional grated Parmigiano-Reggiano cheese, optional
In a large saucepan, cook pasta according to package directions for al dente. Drain pasta, reserving pasta water; keep pasta warm. In same pot, cook bacon over medium heat until crisp, stirring occasionally. Add peas; cook until just heated through.
Add pasta to pot; toss to combine. Stir in remaining ingredients, adding enough reserved pasta water for sauce to reach desired consistency. If desired, serve with additional cheese.
Test Kitchen Tips
The heat of the pasta cooks the eggs, but they may not reach 160°, the temperature at which they're considered safe to eat. To prevent food-borne illness, you can use pasteurized eggs.
Pancetta is the preferred ingredient of choice for true Italian carbonara but it can be a little hard to find, which is why we called for bacon. If you can get pancetta your carbonara will be all the better for it.
Nutrition Facts
1 cup: 353 calories, 12g fat (4g saturated fat), 65mg cholesterol, 326mg sodium, 46g carbohydrate (3g sugars, 3g fiber), 14g protein.
Courtesy of Taste of Home 2017