Chicken Thighs with Shallots in Red Wine Vinegar (Poulet Au Vinaigre)
TOTAL TIME: 35 minutes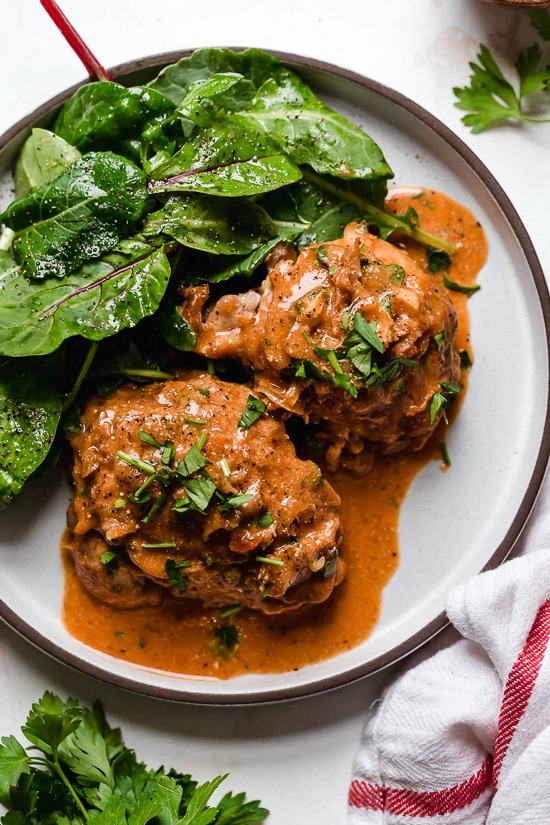 PREP TIME: 5 minutes
COOK TIME: 35 minutes

I lightened up this popular French chicken dish known as Poulet Au Vinaigre, which is made with chicken thighs and shallots cooked in red wine vinegar and white white.

INGREDIENTS:
32 oz (8 lean and trimmed) boneless, skinless chicken thighs
kosher salt and fresh pepper
1/2 cup red wine vinegar
1 cup chicken broth
1 tbsp honey
1 tbsp tomato paste
1 tsp butter
1 large shallot, thinly sliced (3/4 cup)
2 cloves garlic, thinly sliced
1/2 cup dry white wine
2 tbsp light sour cream
2 tbsp fresh chopped parsley
DIRECTIONS:

Season the chicken with salt and pepper.
In a medium saucepan, combine vinegar, honey, 3/4 cup chicken broth and tomato paste. Boil about 5 minutes, until it reduces down to about 3/4 cup. Remove from heat.
In a large skillet, melt butter over medium-low heat and add chicken. Cook on both sides, until brown, about 6-8 minutes.
Remove chicken and set aside. Add the shallots and garlic to the skillet and cook on low until soft, about 5 minutes. Pour the sauce over the chicken, add the wine, remaining broth salt and pepper. Cover and simmer about 20 minutes until tender.
Remove the chicken, add sour cream and stir into the sauce (if sauce dries up, add more broth). Boil a few minutes then return chicken to skillet. Top with fresh parsley.
NUTRITION INFORMATION
Yield: 4 servings , Serving Size: 2 thighs with shallot sauce

Amount Per Serving:
Freestyle Points: 8
Points +: 8
Calories: 353.5 calories
Total Fat: 11.5g
Saturated Fat: 3.5g
Cholesterol: 219.5mg
Sodium: 398mg
Carbohydrates: 11g
Fiber: 0.5g
Sugar: 6.5g
Protein: 46g
All images and text ©Gina Homolka for Skinnytaste

Read more at https://www.skinnytaste.com/skinless-chicken-thighs-with-shallots/#S8htkUuPXzV7Y4Ay.99